Dubai is known to be all in one a fun place. You will have luxury and richness all around you while traveling through Dubai. Not only is the place famous for its lavishness but is also famous for providing unique experiences. So, if you are looking for some exotic dining place for good ambiance, here is a list!
Shangri-La Hotel, Dubai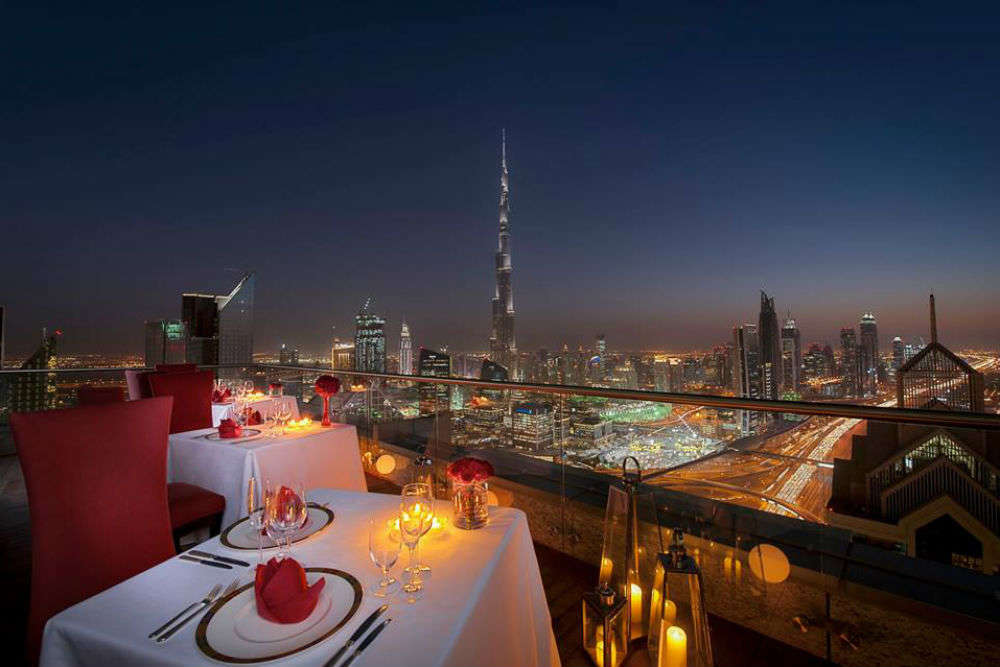 The 42nd-floor terrace of the Shangri-La Hotel, Dubai raises the bar for exclusive dining in the city's financial district. "Fly Me to the Moon" and "Bohemian Chic" private dinner experiences are now available at the hotel. With the magnificent Burj Khalifa in the background, the hotel's culinary team can create a bespoke menu for each setup.
Luxurious Dining In The Desert At Sonara Camp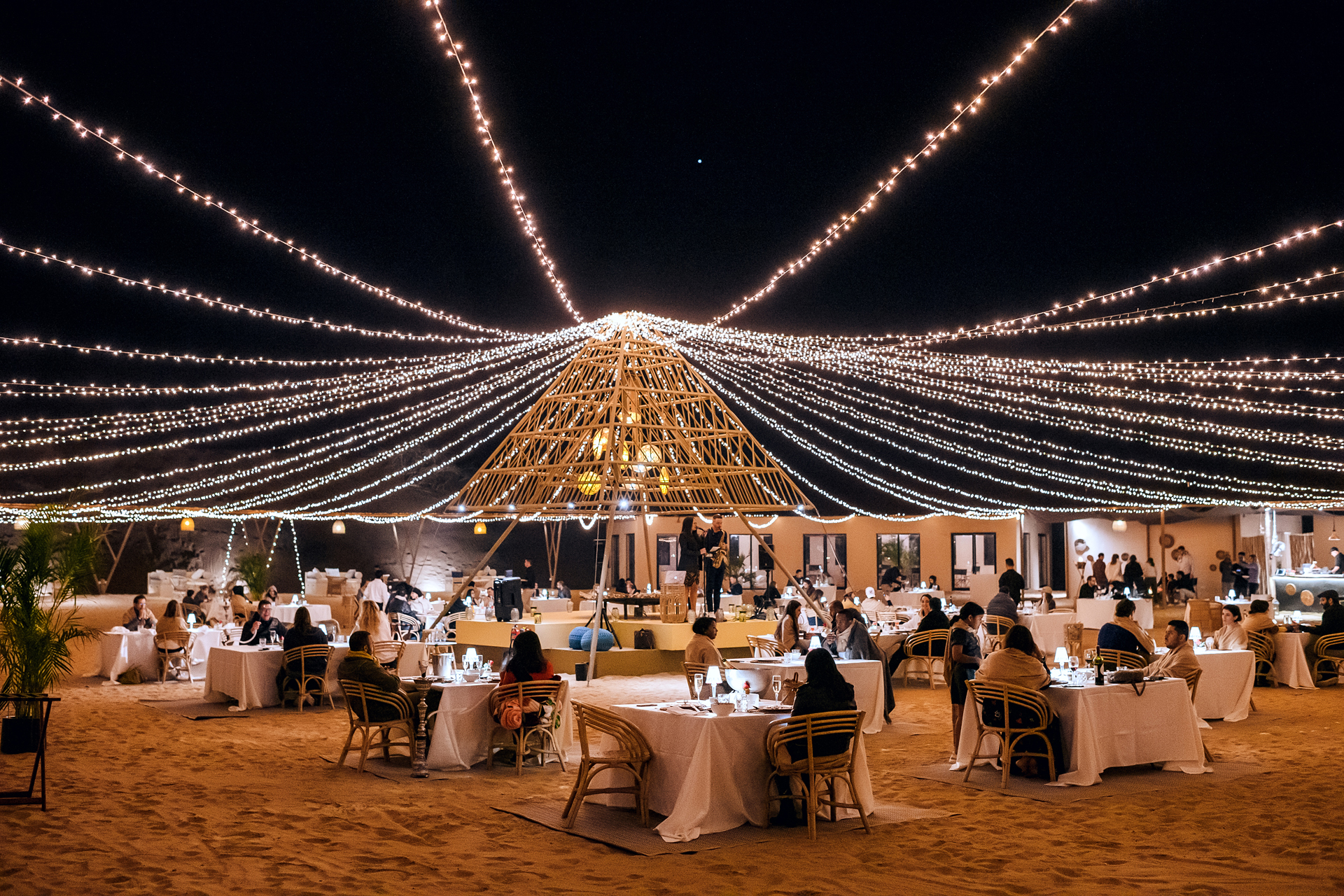 Sonara Camp is the place to go if you want to enjoy a meal in the middle of the desert. This desert camp is the city's first-ever environmentally friendly and custom dining destination. Arabian nights under desert stars are shown perfectly in this film. A world-renowned chef prepares the meals, fusing traditional Arabian flavors with modern Western techniques. Chicken shawarma, beef tacos, a Mediterranean ratatouille, lamb chops with kaffir, and cocoa ganache with avocado are some of the most popular dishes.
Breakfast, lunch, and dinner are all available for booking. But if you really want to savor the best of the desert cuisine, consider an overnight trip in a glamping tent.
Sonara Camp provides a wide range of activities for all ages, including excellent food and beverages. After supper, relax with a movie at the outdoor theater or a drink at the lounge bar. You can also go sand-boarding or archery or drumming or fire displays or stargazing after a delicious lunch. In addition, you can plan pre-dinner activities such as dune bashing or quad biking.
Dining In Darkness At Noire
The thought of dining in complete darkness may seem unimaginable to some people. If you're interested, Noire encourages you to give it a shot. Gourmet cuisine is served in complete darkness at this restaurant's dark-themed theme party. In order to fully appreciate the taste and texture of food, the other senses must be stimulated.
Waiters will wear night-vision goggles as they hover and serve a three-course meal during this 90-minute dinner event. Using your senses to discover your silverware and glassware on the table will make for a memorable dining experience.
After you've finished your meal, the chef comes out to talk about it.
In addition, Noire provides a portion of its profits to a humanitarian organization that fights blindness in numerous countries. If you want to have the best possible dining experience, check their weekly menu first and book in advance.
Ossiano, Atlantis The Palm
Ossiano is worth mentioning for its unusual setting, even if it isn't strictly a private residence. The Atlantis The Palm restaurant is one of the only places where customers can dine in the presence of some 65,000 aquatic animals. Ossiano's Kitchen is a temporary tapas restaurant located in the Ambassador Lagoon at Atlantis The Palm, which overlooks the lagoon. Guests can expect a weekly-changing menu of 18 sweet and savory dishes from Sunday through Wednesday that will take them on a culinary journey around the world.
Four Seasons Resort Dubai at Jumeirah Beach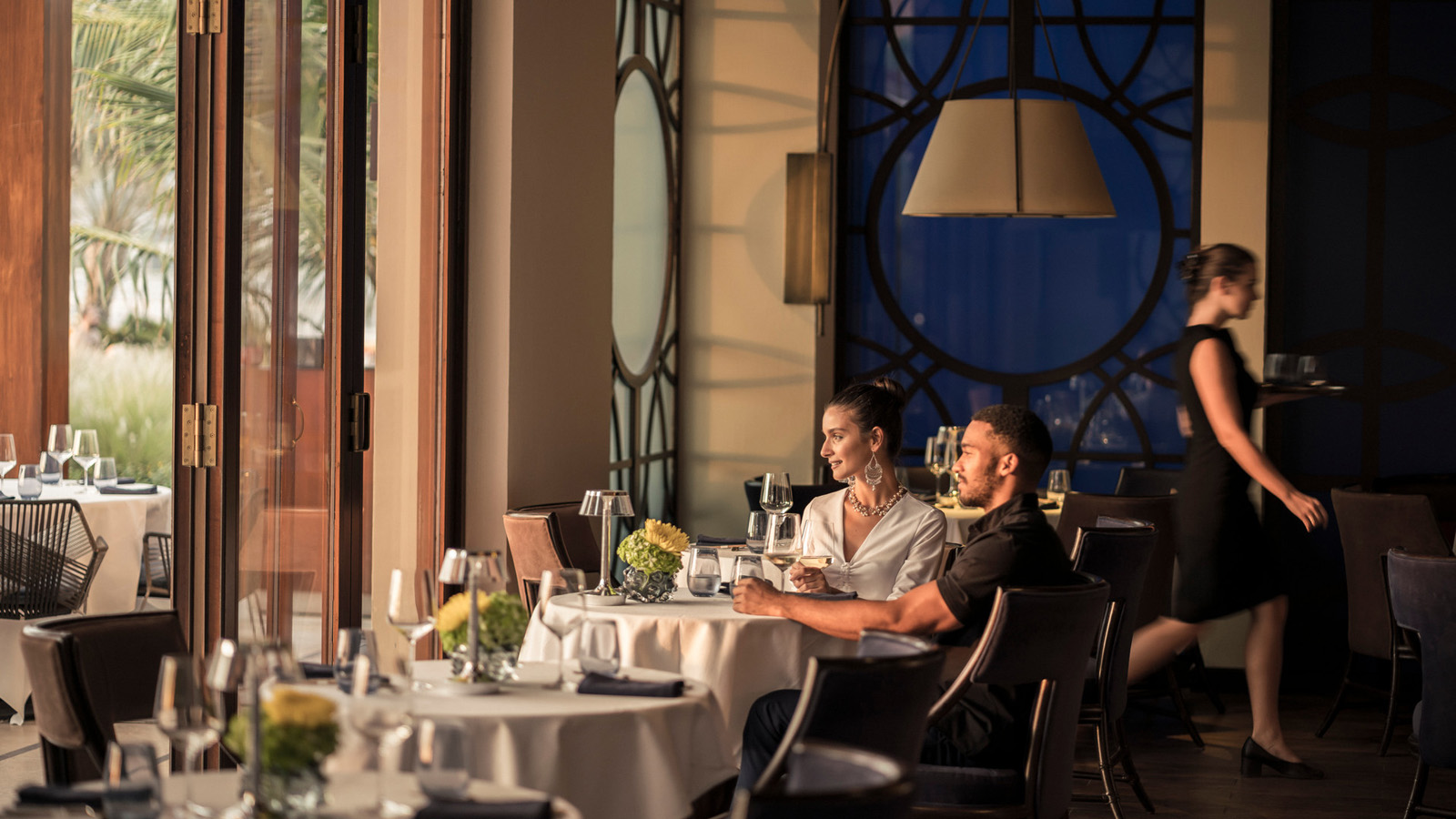 Dinner under the stars on the floating pontoon of Four Seasons can be reserved for those who want a truly unique dining experience. Guests will board a boat after arrival and arrive at the ultimate destination, where a romantic table for two awaits with a beautiful floral display. Guests can look forward to a delectable meal prepared by the hotel's culinary staff and a complimentary glass of bubbly as they take in the breathtaking views..
Dine in the world's tallest building
Even though it's an oldie, it's still a goodie. Visitors to your city are almost certain to want to see the Burj Khalifa, the world's tallest building. Atmosphere, the 122nd-floor restaurant, offers stunning views of the city from its perch atop the structure. Breakfast, lunch, supper, and afternoon tea are all on the menu.
Dine Under the water
Ossiano, located in the world-famous Atlantis, The Palm, is a must-visit for couples looking for an unforgettable dining experience. Enjoy a fine lunch while watching sharks, stingrays, and another marine life swim by in the aquarium that spans the whole length of the restaurant's interior.
Dining while Sailing on the Boat      
Last but not the least, a lotus dinner yacht is something that you cannot miss!
For a romantic evening or simply a memorable meal, make a reservation at the lotus mega yacht dinner cruise. You can have a fine dinner while sailing on the fresh blue water. It's hard to imagine a better example of a luxury yacht than the lotus dinner yacht. Don't miss out on this unique opportunity to dine onboard an ultra-luxurious boat at Dubai Marina, which she has reserved just for you. They offer a lavish menu that has everything from canapés to salad, main/live cooking and desserts of course.